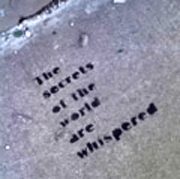 Welcome to my corner of the world. This site is being rebuilt on a foundation of 18 years worth of work. Much that has gone before is being jettisoned. Much will be  rejuvenated to reflect the best of creative options that have been discovered along the way. Even more will be added to reflect the interests of those who are looking to expand their horizons.  
We'll explore all sorts of creative avenues where an individual can find challenge, growth and a sense of accomplishment. It doesn't matter whether we're 5 or 25 or 75, we can enjoy the excitement of discovery and the satisfaction that comes from achieving new goals. Every day affords us new opportunities. 
We welcome your feedback as we move forward.