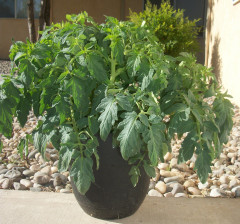 Those who have read my blog over the years know that I have a passion for gardening.
Nope, I don't pretend to have a green thumb or anything like that. And I generally have very little space – either in my Oak Park condominium or my Albuquerque apartment. But, I have learned that I can enjoy growing plants in pots and they generally do quite nicely.
Here is that tomato plant started in late March. It is doing quite nicely. I think I should have tomatoes by July and will be happy to share them with my friends when they ripen.
The smaller pot holds plants that are fun – even for children…two grapefruit "trees" and a potato plant share that small space. I expect I need to repot them in the next day or two. If you'd like to try this experiment with your children, just cut out the eyes of a potato plant or save out a seed or two from a grapefruit and pop them into some potting soil. Give them as much sunlight as you can. Then watch them grow.