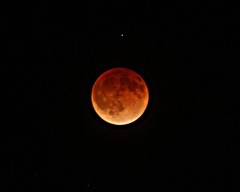 Did you see it? We enjoyed this blood moon total eclipse — right from our kitchen window! It was absolutely awesome!!
There's going to be another one September 28th. My daughter I and agreed that we will go out into the desert to enjoy that one.
We just never had the joy of enjoying natural events of this kind when we were living in Illinois. The concrete jungle with it's bright lights – even at night – and it's smoggy skies blocked such events from us.
Several years ago we drove clear out to the furthermost northwestern suburbs hoping to view – I believe it was – a rare siting of the Northern Lights and met nothing but the greatest disappointment.
At that point we resolved to enjoy every extravaganza of nature that living in the Southwest would allow.
Mark your calendar and join us. Don't let the opportunity to enjoy pass you by.