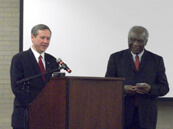 I'm about as quick as the next person to find fault with the political scene. I'm truly dismayed by last week's tragedy in Arizona. Living in Illinois, I've witnessed some of the worst political shenanigans. And, I have been appalled by the reputation Illinois has earned because of them.
But, today, I was fortunate enough to be invited to a Town Hall meeting that made me as proud to stand up and say "I'm an American" as I was when Barack Obama was sworn in as President. 
The event was co-hosted by Democratic Congressman Danny Davis and Illinois' newly elected junior Republican Senator Mark Kirk. I do hope that this meeting will serve as an example to politicians everywhere…and example of the kind of politics we will enjoy from here on out.  It was the most cordial interchange I've had the good fortune to witness. They treated each other with high esteem and their constituents in attendance with the greatest of respect.
There was no fluff, no beating around the bush. Whether we agreed with or liked what they had to say in every case was of no import. They listened in wrapped attention to each individual who filed up to the microphones to voice their opinions and concerns. And they answered clearly and without equivocation.
In the end, we all left that meeting with a clear understanding of where they stand. We had no doubt that both men are looking out for the best interests of the businesses in Illinois. And more important, we could see, beyond a doubt that at least these two men would do their darndest to work together for the good of the people of Illinois and the country.
I sure hope that they get the media coverage for this event that they deserve….at least as much a play as the disastrous Town Hall meetings we've seen publicized in recent months.
Are they planning to change their approach as a result of the Arizona tragedy? Definitely not. They both said they take seriously their duty to serve the public and to do what's best for them. They plan to hold more events like this one and to stay in touch with those of us whom they serve.
Too often, we forget that, the media has a tendency of focusing on the tragedies around us. While, admittedly, that's interesting the best way to know and understand what's really going on is to go straight to the source. Look your public servants in the eye. Ask them the hard questions. And understand that, while there are some bad apples, as there are in every profession, the vast majority of them really are dedicated to working hard for the best interests the people they serve.