Yup, there are days when it seems like there's just no way to get yourself out of a jam.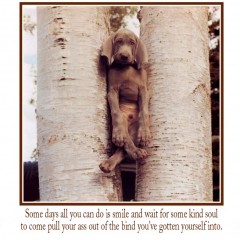 You know you got there yourself though you may not know how you got there and you, certainly don't know how to undo the damage.
 It's happened to all of us at some time or another. It happens in spite of our best intentions
It's embarrassing as all heck. Seems like the only thing that can be done is to run and hide but you know you can't. 
These are the times when it's best to just acknowledge that we're poor weak human beings and trust that all will come out ok if we just give it a little time.  So smile and be patient with yourself – and resolve that you'll make a concerted effort to avoid the same mistake in the future. Remember all life is a learning process.