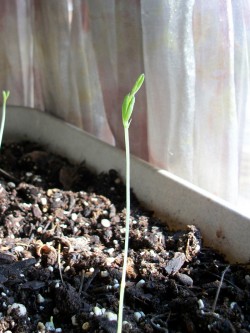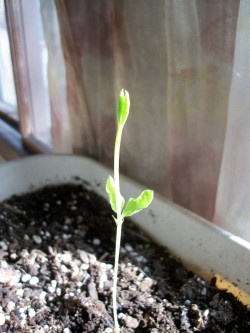 It's true. February in Chicago is NOT a particularly good time to be planting – unless you live in a condominium with an east window.
A week ago I planted some Sweet Pea seeds that my daughter gave me. I set the pot on a bookshelf and forgot about it…until yesterday. The left picture shows one of several seeds that have taken off. Today I looked again and what did I see?  The same Sweet Pea is pictured on the right. You may not see the full impact from the picture, because I wanted to be sure to get close enough to show the new leaves. Since this time yesterday the plant has grown a full 2-inches…what you see from the bottom leaves to the top. 
This is one plant that grows so fast, you can almost see it changing, like a time-lapse video, right before your eyes. It's a trifle early to be thinking about moving plants out-of-doors here in Chicago – even though this is one of the mildest winters on record here. I don't know if I'll be able to nurture this plant until Spring arrives, but I'm going to try. I'm guessing it's going to require judicious pruning – assuming that the growth continues at this rate – which indicates that, untended, it might grow as much as 3 1/2 feet before then. 
Wish me luck 😉 !