Are you looking for ideas for a senior project that can be enjoyed alone or shared
with grandchildren?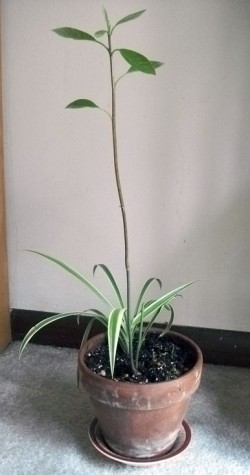 Here's an idea I stumbled on.
On May 5th, I wrote a blog talking about not giving up too soon. And I said I'd share a
little later how the avocado plant is doing. Here she is in all her glory!
I wrote that article to point how what can happen if you don't give up. After all, we have become accustomed to looking for quick fixes. When raising plants, we sometimes forget that plants don't operate that way.  Whey plants look like they're dying, we frequently will give up and throw the plant out too soon. After all, who wants a dead plant lying around?
In that post, I admitted that I had planted an avocado seed to see if it would grow. it started out just fine. Then one day, it looked like the tip of the stalk had withered (or maybe my cat chewed if off). Because the plant looked like it had been severely damaged, I almost threw it out, but thought better of it. That article showed early photos of that plant. I promised to share a photo if anything changed.
What a difference a week makes!
Now, this is a project that seniors, parents and children can all enjoy – and expect
great results in a short itme- without requiring a great deal of skill. Better yet, it's a project that can be done in an apartment or condominium. It even works well when condominiums don't have access to balconies or patios.
With very little effort, seniors – well, actually, anyone – can enhance their surroundings very easily. Moreover, this is a project that seniors looking for activities to share with their young'uns will find particularly effective. It gives a sense of accomplishment as well as a promise of greater things to come.
It's easy. All you need is a pot (I recommend a fairly large one), some dirt and the seed from one ripe avocado. Just remember, have a little patience. 
While this project can be used as a lesson in patience, stick-to-it-iveness and discipline, it also can be used to stimulate curiosity and appreciation for nature, photosynthesis, and plant care because it is so responsive to the sun.
You might experiment with seeds from many different fruits. Grapefruits and oranges are particularly good. Consider apples, cherries and peaches or any other fruits you find at the grocery store.
If a tree in your living room, doesn't sound all that great, consider an experiment with other free – or nearly free – options. Do you have potatoes that are approaching their prime, perhaps they already have started sprouting eyes? They'll grow into interesting vines. Buy carrots that have their greenery still attached, but the top quarter inch of the carrot and plant it in a pot.
This is a good time for buying seeds, if this is your preference. Consider which herbs you use in day to day cooking: marjoram, thyme, parsley, oregano and others. They grow very nicely in pots on well-lighted kitchen counters or window sills
Experiment. Have fun. If you're a senior looking for ideas for projects to enjoy yourself or to share with your grandchildren, this is one I've found that is sure to delight day after day.