If you are lucky enough to have a digital camera
you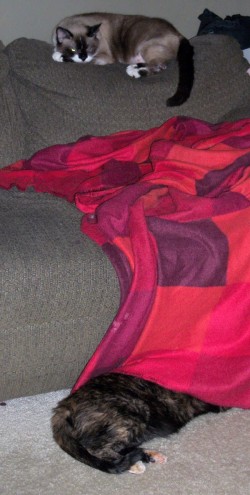 have the source of countless hours of entertainment. Keeping it close at hand will ensure that you can capture those precious moments that otherwise would escape our attention.
Witness the photo to the right. I was trying to get some work done this morning. When I got up to
fix a cup of coffee, I noticed my two cats (Twiggy
on top and Sparrow below) The picture was too precious to pass up. Now, normally I need to go digging for my camera, but today I had it on my desk so I grabbed it and started shooting.
Now, I don't pretend to be an expert photographer and my eyes aren't as good as they once were,
but I was thrilled to be able to capture this composition.
I've learned that in order to get the best possible picture it takes a lot of trial and error. Practice makes perfect, they say, and it certainly is true
with photography.
Digital cameras offer an amazing amount of control for us novices. My favorites are the zoom and the setting that controls shaky hand.
The important thing is to just keep playing with the camera settings until you get familiar enough with them to understand which settings work best in each circumstance.
We older citizens can appreciate digital cameras because they allow us to take and delete photos without the exorbitant costs and delays in seeing the results of our efforts which were so common in the past.
I hope you enjoy your camera as much as I do. It opens the door to a cost effective hobby you can enjoy any time of day or night..