Some days leave your head spinning. This 4th of July certainly did that for me. I'm not even sure how to classify this post, but I want to share.
It began with taking my daughter to O'Hare Airport. Oh, the excitement! She was taking off for a week-long trip to Mexico City. Now, I've always wanted to go to Mexico City but I had no idea what a wonderful trip it would be until she started planning her trip. What an elegant city! And I understand the images of the hostel that she planned to stay at were dwarfed by what she found when she arrived. I can't wait until she returns to share all her discoveries and her pictures..
Immediately after leaving her, I went to pick up my new friends at their hotel. They are from Korea. We'd finished working on a week-long Market Research project.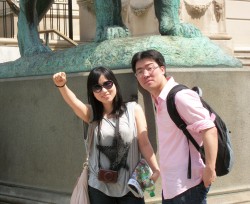 project and had developed a friendship that would blossom into a spectacular day that I will never forget.
Normally after a week of intense work, I would have spent Saturday catching up on work here in my office -4th of July weekend or not. . I certainly would not have considered going into the City – not this weekend. We locals tend to take for granted all the delights we have in our own backyard. "Been there, done that," we think.
I had memories of 4th of July fireworks celebrations where the crowds were so
dense that you could walk on the heads of the crowds and where you hardly had
room to breathe. I remember it taking hours to get home afterward. And, as great
as the Taste of Chicago is, we often opt out of that event. Once you've been there,
what more is there, after all?
But Chansook and Sanchos are new to Chicago and there is so much for them to
see and enjoy that we decided I would help get them get acquainted with some of the best Chicago has to offer. After all, living here I have found shortcuts and ways around some of the challenges that can diminish the Chicago experience.
Our day included visiting all the sites from the north-west corner of Millenium Park down to Buckingham Fountain, up a part of Magnificent Mile, over to Navy Pier then back down to a spot on the lake near the Art Museum where we could enjoy this year's fireworks. The spot we chose was the perfect place to enjoy the fireworks in all their glory.
I can't remember when I've walked so far or enjoyed Chicago so much.I  was very proud to share all these wonders with my new family.
Chicago is to be complimented. Despite all the activities this weekend, and despite the drastic change in how the fireworks are handled,  the City can be proud of how well everything was coordinated.  This is the first year that the City didn't offer the usual fireworks display. Instead, Navy Pier had two extra fireworks displays, one yesterday and one tomorrow. I know it was probably very crowded at Navy Pier, but going back to the Millenium Park area we enjoyed an outstanding view of the fireworks and we avoided the crowds. The only thing missing was the magnificent Grant Park concert that introduced the fireworks in the past. 
Why do I share this with you? As a reminder.
Americans have gone through a bizarre time. We have lived through a decade of paranoia and fear. We're learning again that such fear is no longer necessary. We can hide in our homes and try to isolate ourselves from each other – or we can open our hearts and make room for a new world of adventures. In this one day, I had the pleasure of seeing Chicago with new eyes. And, I welcomed into my heart two new friends that I will treasure for the rest of my life.
Age has nothing to do with who we are or what we can do. I spent the day with two of the most delightful people half my age. In fact, they are the same age as my daughter. In the process, I had the joy of learning more about them and their culture. I found with them the same joy and enthusiasm I enjoy with my own daughter. Their excitement, their ability to enjoy the people we met throughout the day added a dimension to my own enjoyment that is irreplaceable.
We talked about how difficult it is to meet friends – real genuine friends – on the internet both here and around the world and we discovered that enthusiasm and open appreciation is really not that difficult when people come together face to face even among countless strangers.  At the same time technology is what is bringing us all together. After all, it was market research about a new technical device that brought us together in the first place.
More important. We re-learned that fun and friendship is where you find it. You can let the opportunities pass – or you can remain open and receptive to all that life has to offer.  I know from my daughter's past trips that this is really what it's all about. We have the ability to expand our horizons – if we choose. I know that she's enjoying the same kinds of experiences in Mexico City as I'm enjoying here in Chicago. We're both going to have a lot to talk about when she returns.
It's a choice.  Life's an adventure, whether you go to another country — like my daughter, Chansook and Sanchos have — or you stay home — like I have.  Life is about what you make it.  Make yours outstanding.
PS: Please, if you see Chansook and Sanchos out there enjoying Chicago today and tomorrow, welcome them.  
  .