Here it is, May 22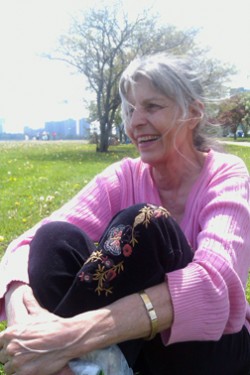 The "rapture" has come and gone, and, oh, my….
I've missed it!
Or maybe, I just wasn't among the chosen ones and this is hell and I'm doomed to stay here for the duration.
Well, that's ok. I had a birthday to celebrate with my daughter.
Chicago doesn't offer all that many wide open spaces that are easily accessible by car. But we like going out to the point at Montrose Park. The high rises are just far enough away and the lake stretches as far as you can see. At this particular spot, there's plenty of grass and trees (that happened to be in full bloom today). It's a perfect place to enjoy a leisurely sandwich and visit over many things while enjoying the sailboats glide effortlessly over the calm sky blue water..
This was a particularly spectacular Chicago day. Early in the afternoon – before the spring shower began – the sun was still shining but there was also a soft magical haze that softened the effect. The breeze off Lake Michigan was actually a bit on the chilly side. Together the sun and wind gave us a day that was a pleasant 85 degrees.
We talked of many things including the state of the world's current crises, the economy and work challenges. We couldn't solve the world's problems – of which there are many – but this setting seemed to put everything in perspective for now.
I don't know about the rapture and I'm not going to worry too much about it. I – and my daughter – are one day older [ "… and deeper in debt…" as Johnny Cash used to sing 😉 ]
I haven't got a clue what the future holds. I'm not even going to guess. It's not important. Right now, all seems right with the world. Tomorrow?  Que Sera, Sera.