Memorial Day signals the beginning of summer and gives all of us pause as we remember the hundreds of thousands of our gallant citizens who gave their lives to make this the great country it is.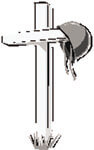 Chicagoans typically remember with gala parades. Whether you join the crowds downtown or choose to attend one of the other parades in the nearby suburbs that might be more convenient and a trifle less crowded it's a day to get out and honor our heroes living and dead. 
It's not so important whether you attend one of these parades or choose to follow your own family traditions. Whatever you choose to do this weekend, keep it safe and take a moment to remember why we have this holiday. Allow some time to reflect on the great sacrifice our fellow Americans made on our behalf. Hug your children and pray that they will not be called on to join the ranks of our war dead.