We talked about gardens used for landscapes and how some people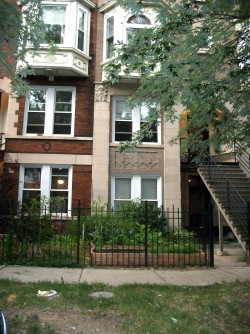 face opposition to their efforts to plant gardens in their front yards. Here is what's happening in Chicago – the city often called the "Concrete Jungle" in years past. is surprisingly green-minded. 
Even on densely populated streets of 3-story row houses, we find people planting and enjoying a variety of home-grown vegetables raised right there in their front yards. These are two of three houses on such a street in what is called Ukrainian Village just 2-3 miles from the Chicago Loop. Each one of them has chosen to make good use of their tiny yards.
What you'll find growing is absolutely amazing. Tomatoes, squash, various varieties of peppers, lettuce, you name it.
Of course, gardeners in Chicago are faced with unique challenges. The growing season is terribly short. So you won't find many large beefsteak tomatoes. In these gardens, the owners opted for a tiny variety that matures quickly and yields countless bite-size tomatoes from July through late September. With careful selection, a garden — even this small — can feed several families nicely.
You'll notice in some of these pictures the delightful flowers these plants produce as they mature. And you can see, if you look very, very closely the first two tiny yellow tomatoes of the season already ripe for picking.
Enjoy the photos, and consider what you might do in your own corner of the world…