It's not one of the most noted Frank Lloyd Wright homes but I have had the good fortune of enjoying it each day when I look out my window. 'Til now I have lamented its aging and deterioration. Age does take its toll when upkeep is neglected.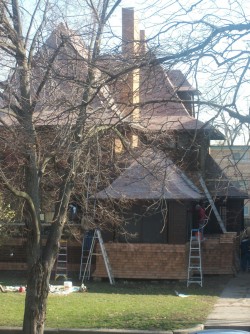 Now, this beauty is getting a facelift and I'm looking forward to enjoying its refurbished beauty.
I do hope they will get it finished before the first heavy snow hits Oak Park. This week's mild weather should help to get the job done in time.
I'm so looking forward to the possibility of seeing the job done by Christmas. At minimum when spring comes to Oak Park this home promises to be a delightful addition to the neighborhood.
As we grow older we become more aware of deferred maintenance. There was a time this last year when neighbors dreaded the possibility of this home being torn down. After all, there's a certain elegance is aging buildings, that can't be replaced.
Same is true for those of us who are getting older. A little extra TLC and a nominal amount of care can do wonders to the appearance of us elders. No, I don't think we all need to rush out to the nearest cosmetic surgeon for a facelift. I much prefer working with what we have. It took years for us to earn our wrinkles and our white hair. Why hide it?
That said, attention to our wardrobes, appropriate makeup and hairstyles accentuate the beauty of age. It doesn't take tear down and major reconstruction, just a little bit of TLC can make us shine…just as with this Frank Lloyd Wright that is finally getting some tender loving care.