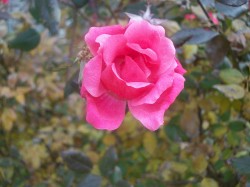 It's the 21st of November and the day before Thanksgiving here in the US. Christmas decorations moved in three or four weeks ago and line the major thoroughfares, reminding us that another season is coming to a close and it's time to start shopping. .
Today I woke to a deep fog. It was a bit on the cool side. Most of the trees around here are bare. In short a walk didn't promise to be particularly exciting.  I debated whether I'd walk the four blocks to my appointment. Well, heck, I thought, I'm not a wimp. It won't hurt me to walk. All too soon it will be bitter cold and I will not be considering a short walk. There is a point where I draw the line. 
So, I donned my jacket and took off. About two blocks from home (half-way to my destination) I came across this rose. It took my breath away. I can't call it the "last rose of summer". Winter's around the corner and time for Christmas shopping is growing short if we're to believe the merchants who are counting on this being a profitable holiday season.
With delights like this to give us pause, I am not impressed by the fancy decorations that line the streets of my home town. There will be plenty of time for Christmas. Right now, I prefer to enjoy the presents that the season has to offer.